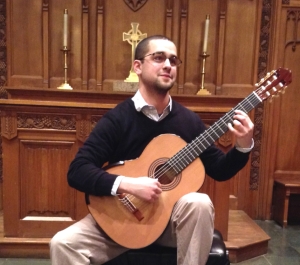 Kahlil Sarikey, B.A., Guitar, 2010
After graduating from Buffalo State, Kahlil completed the MM/Performance program in guitar at the Eastman School of Music.  With the support of an Eastman Graduate Scholarship, Kahlil entered the DMA program in Performance and Literature and is currently engaged in doctoral studies. In 2012 he won the Eastman Guitar Concerto Competition and performed contemporary Cuban composer Leo Brouwer's Concerto Elegiac for Guitar and Small Orchestra.
Kahlil is generous in sharing his experiences with current music majors, and has returned as a campus guest to speak at the BA Music Forum arts careers series.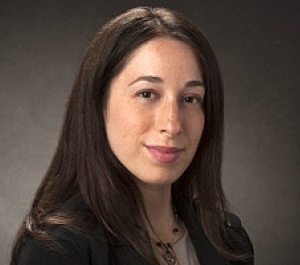 Gabrielle Carlo, B.A., Voice, 2008
A dedicated singer of jazz standards and scholar of music history, Gabrielle continued on to the MA program in musicology at Brooklyn College-Conservatory of Music (CUNY), where she completed a thesis on American composer William Grant Still's opera Troubled Island.  She is a graduate of the University at Buffalo's MLS program in Information and Library Science, and interned at the Buffalo Central Library and the Albright-Knox Art Gallery as a graduate student.
Currently, Gabrielle works as a Project Archivist at UB Special Collections, and serves as a Lecturer in music history in the Buffalo State Music Department.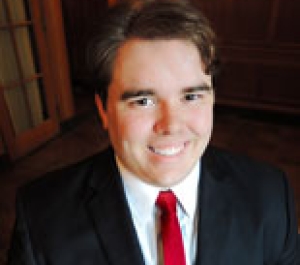 Nicholas Kilkenny, B.M. in Music Education, Voice, 2011
Nicholas Kilkenny graduated with a bachelor's degree in music education in the Fall of 2011. He now holds a MM degree in vocal performance and is currently a DMA candidate at the Eastman School of Music. He is a Graduate Teaching Assistant at Eastman, where his responsibilities include teaching private voice lessons as well as class voice at the University of Rochester. In 2014 he was awarded the William McIver Award for Excellence in Teaching.
Nicholas is an active performer in the Northeast in opera, oratorio, and art song. As of 2015, he has performed roles as a soloist in more than 30 operas and concert works, including the role of Jewel Scrooby in Howard Hanson's Merry Mount, which was performed in Carnegie Hall in May 2014. He has also performed in recitals and concert programs across Upstate New York, Long Island, and Cheshire, United Kingdom.
Paul Sierkierski, B.A., Double Bass, 2006
After graduating from Buffalo State, Paul entered the University at Buffalo's Graduate School of Education, where he received the Ed.M. in music education. Since 2011, he has been teaching instrumental music in the Buffalo Public Schools system. He performs regularly as a bassist with the Cheektowaga Community Symphony Orchestra, where he is a member of the Board of Directors. Paul also performs regularly with the Easy Street Big Band and in pit orchestras at the Palace Theater and Theater in the Mist. He is Elementary Festival Coordinator, Junior High South Orchestra Coordinator, and a member of the board of the Erie County Music Educators Association (ECMEA), and serves as an adjudicator for both ECMEA and the New York State School Music Association (NYSSMA).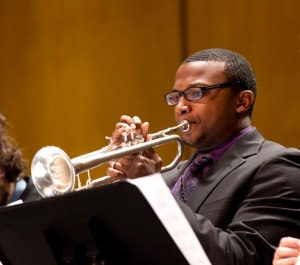 Stephen McLean, B.A., Trumpet, 2013
A double major in music and history, Stephen won the 2012-13 Young Artists Competition at Buffalo State and performed Haydn's Trumpet Concerto in E-flat with the Philharmonia Orchestra under Maestro Paul Ferington.
Stephen accepted a performance fellowship to join the MM program in trumpet at Pennsylvania State University in Fall 2013.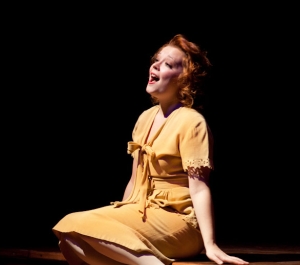 Cassandra Conrad, B.A., Voice/Theatre, 2013
A double major in voice and theater, Cassie starred in the Theater Department's annual musical production, Dames at Sea, and was a winner of the Buffalo State Young Artists Competition in 2011-12.
Cassandra accepted a fellowship in vocal pedagogy at New York University, where she is currently a candidate for the MM degree in musical theater.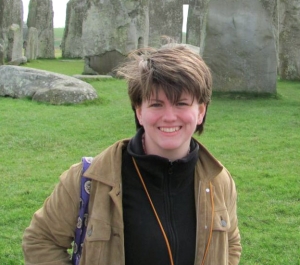 Darcy Kennedy, B.A., Voice, 2013
Darcy interned as a music-theater program assistant at the Gateway Longview Youth and Family Services Center in Elmwood Village before joining CitiYear Detroit, a national public service program.
Darcy accepted a merit scholarship to enter the MBA program in Nonprofit Management at Brandeis University in Boston in Fall 2014.  She was also accepted for graduate study at Syracuse University's Maxwell School of Public Affairs and received a graduate assistantship offer from SUNY Albany.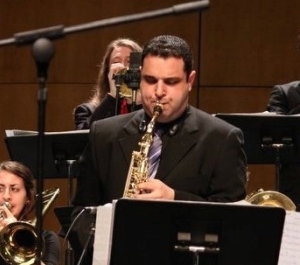 Matthew Seeman, B.M. in Music Education, Saxophone, 2012
Matthew Seeman graduated from Buffalo State with a bachelor's degree in music education.  While in attendance at Buffalo State, Matt was an exemplary member of both wind ensemble and jazz band in addition to numerous chamber and small jazz ensembles.  Matt is an excellent musician, and served as a tutor for undergraduate musicianship courses for several semesters.
Following his graduation from Buffalo State, Matthew was awarded a full Graduate Teaching Assistantship at Florida State University, and completed his Master's of Music Education in 2014.  He is currently teaching middle school band at Harnes Marsh Middle School in Lehigh Acres, Florida.
For Alumni
We want to hear from you!
The Music Department is proud of the accomplishments of its many graduates and we'd love to hear from you. Please send us a message and let us know about your latest achievements, along with any updated contact information.